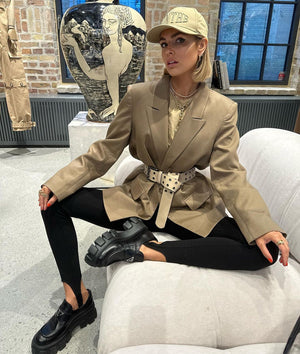 AS SEEN ON @julia.kammerer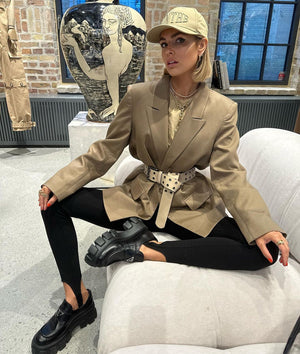 SUSSIMA BLAZER
Elegant blazer in a recycled polyester and wool blend. The blazer has long sleeves with buttons on the back of the sleeve, and is designed in a regular fit with flap pockets on the front, and a one-button closure. Available in the colors black or camel.
CADEN
Soft belt made from leather, designed for jeans belt straps, or around dresses and coats. The belt is available in two sizes; S/M which is 115 cm long and M/L which is 123 cm long. The belt is 4.5 cm in width. Available in the colors black, brown, or kit.
JEWEL
Cap made from 100% organic cotton. The cap has a MUNTHE embroidery at the front. Available in the colors black, khaki, army or navy.