HIGH SUMMER 2023
"This season we explored the idea of redefining the feelings of softness and lightness. We thought about the definition of high summer essentials – and the tailored substance on which to build any look.
Inspired by the joy of being outdoors, it was also an opportunity to pay attention to nature in all its beauty and resilience. These influences shaped the way we approached each element of the collection, as we tried to create a feeling of balance in each style.
And remember: A new collection is imagined and created by a design-team, but it is "in the streets" that it becomes alive and real, meeting the imperfections of existence, day after day, lit by the unique identity of the wearer" – Naja Munthe.
As the weather grows warmer, we love to spend more time outside. Whether you're staying in your own country or jetting off to somewhere truly hot and sunny, this High Summer 2023 collection has all your summer wardrobe-needs sorted. All in gorgeous and elegant pastel colors like powder blue, soft sand, faded mint and butter yellow. Beautiful watercolor-textures, from floral prints to delicate embroideries, it is the perfect collection to pack for a holiday - or to help bring those holiday-vibes to you, regardless of the weather.
With dresses, tops, skirts, suits, and an unstructured army jacket in a natural shade of sand, the HS23 range extends to a silk-set - so if you like, you can go for that full-on matching moment. 
All in all, a blissful selection that will leave you yearning to go back for more – and a popular choice for any summer outfit, wedding guest attire or excellent partywear.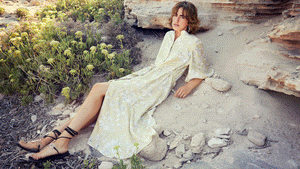 Sorry, there are no products in this collection